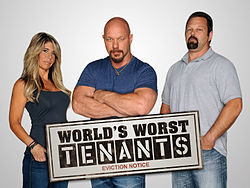 If you have yet to watch the show World's Worst Tenant, you really need to watch it. It is a combination of hysterical and insightful. During each episode the team sets out to help a landlord deal with a difficult tenant situation. They face a wide variety of crazy situations. I've seen shows dealing with drug dealers, vandalism, and even an old couple that refused to stop smoking in the unit despite the fact they were on oxygen. One show in particular blew my mind; it was discovered that the tenant was running an illegal sweat shop out of his garage. Every night around 2:00 AM a van showed up and dropped off between 20 and 30 illegal immigrants, who then went to work sewing clothes in this guy's garage. It was insane.
The World's Worst Tenant team goes to great lengths to get to the root of the problem. They stake out the properties, they interview tenants and neighbors, and they even conduct property searches. Once they discover the issue, they are in contact with the landlord and often the police to get the situation resolved. However, they are working from behind. By the time they are called in, the issue being addressed has already caused other problems and cost the landlord a great deal of money. The better approach would be to work to prevent problems as opposed to dealing with them after the fact.
After seeing several episodes, something became increasingly clear. The landlords involved were mostly out of town landlords, who were not able to have daily or even weekly contact with their properties and tenants. In addition to frustration, these landlords were losing mass amounts of money trying to resolve the issues, repairing damages, and losing other tenants. The other common thread that becomes increasingly obvious throughout the show is that if these landlords had attentive property managers acting on their behalf and looking after the properties; these situations could have been avoided. This is true for out of town landlords, as well as local landlords, who just want to have a life away from their properties.
Among other things this is what we provide our landlords. We find tenants and carefully screen them before allowing them to sign a lease. Additionally, we monitor all the properties carefully, so if problems do arise, they are dealt with quickly and effectively. We maintain awareness of what is happening at each and every property, so our landlords don't have to. This saves our landlords a great deal of frustration and money. We take care of damages to the properties when they happen to prevent the damage from increasing. We also work closely with the city inspectors, Section 8 inspectors, and police, when necessary. We do everything we need to in order to provide our landlords with the best possible service.
About Realty Trust Services
Realty Trust Services is a licensed brokerage and property management company in based out of Lorain County with a service area from Sandusky to Cleveland Heights to Medina. Their team includes: Agents, Christopher Obrycki, Andrew Morris, Shanon Jones- Plas, Kari Taylor, Matthew Klein, Julie Musial and our other unlicensed team members including Steven Taylor, Bill Taylor, Greg Zadorozny, Kris Mrazek, Joyce Thomson, Matthew Harkins and David Stevoff. For more information on Realty Trust Services and how they can help with your property call 440-220-7300.