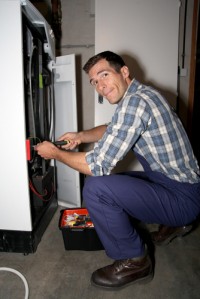 While looking for a property manager, you may see ads for people offering to do property management. Maybe they are handymen or contractors, and they post ads that they can help manage your properties. They boast their ability to handle the maintenance themselves. But are they licensed?
The one most important question you need to ask when contacting someone is if they are licensed to do property management. Ohio Law states that when working as a property manager; leasing properties, collecting rent, etc. you have to have a brokerage license.
A brokerage license is not easy to get or keep. You might think having a license isn't a big deal as long as they get the job done. However, you have to think about it as a commitment and investment. If a property management company went through the work of getting and maintaining their license, it is a sign of professionalism and commitment.
Someone operating without a license can disappear on you. They may be looking to make some fast money and get out. Likewise, if their business is maintenance and they decide to offer property management as a means of getting more business, you have no real guarantee that they have the experience and knowledge needed to manage your properties, which is a lot more than just the physical maintenance.
Having and maintaining a license is a means of protecting the public. For example, as licensed property managers, we have audited trust accounts. These ensure that deposits and rent money is being safely handled. If we are managing 300 rental units, we may have anywhere from $300,000 to $600,000 in the bank. That is a lot of money. For someone with little to lose, that money could just disappear. As licensed property managers, we are held responsible for every dollar.
If you have an issue with how we manage, you can go to the state. Then the issue will be looked in to. If we are found at fault, our license can be pulled. Because we are committed to our business, we work in the best interest of our property owners to ensure we maintain our license.
Additionally, operating without a license is a criminal offense with a $1000 fine per incident. If an unlicensed person is managing multiple properties, that fine can be huge. It does not take much for the state to find unlicensed people working as managers and put them out of business, which would leave the property owner in a serious bind.
As professional licensed property managers, we have the systems in place to care for many properties for both local and out-of-state property owners. Our system and processes are well developed and allow us to go beyond minimum care. We manage all the properties under our care as if they were our own, which provides peace of mind especially for out-of-state owners, who are unable to physically check on their properties.
Our experienced investment property management team can relieve you of the burden of managing your rental property while saving you some serious money! Call us today at (440) 220-7300 to see how we can help you!