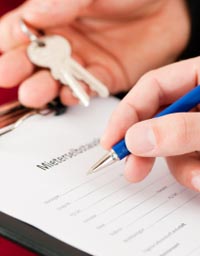 How do we ensure we are finding you the best tenants for the property?  That is a great question because bad tenants can cost you a lot of money. They can damage the property, not pay their rent, and force us to evict them. All of which cost a lot of money and lead to vacancies.
Marketing. The first thing we do is market the property. By actively marketing the property, we can get a selection of applicants. This gives us the opportunity to choose the best tenants. Then  we screen all applicants.
Screening. When someone is interested in renting a property, we have them fill out an application. We then screen out the ones you do not want living in your property. We have an extensive screening checklist. You can learn more about it by going to 7 Steps to Flawless Tenant Screening.
Landlord verification. Although many landlords will debate the merits of landlord verifications, we believe they are an essential part of the screening process when available. Go to Problems with Landlord Verification in Screening and the Solution to learn more about the advantages and disadvantages of landlord verification, but more importantly, how we mitigate the disadvantages when screening tenants.
Manual checks. Because we take the screening process very seriously, we manually check all local criminal and eviction records. Why is it so important to check criminal and eviction records manually?   Another great question. You can follow the link to read more extensively on the topic. In short, we learned through experience that national background check data bases are imperfect. While they are still a useful tool, they are not sufficient to stand on their own. We also check with the local courts for any recent filings or ones missed.
Tenant screening and marketing work in combination to ensure we have a selection of good tenants to choose from for each and every property we manage, We have several videos and blog posts available on the many things we do to market properties, but a good one to start with is My home is not leasing – some tips for better lease marketing.
Our experienced investment property management team can relieve you of the burden of managing your rental property while saving you some serious money! Call us today at (440) 220-7300 to see how we can help you!